6 potential candidates from Singapore, Hong Kong, Taiwan, Malaysia, Thailand and Philippines were specially selected for a beautiful dream that they hope to fulfil. These 6 candidates arrived and gathered in the birth land of Majolica Majorca, and received days of intensive training from the Master Evangelist, Sawako Yuri.
The Evangelist Event is about an Evangelist School, as a regional platform for all selected candidates to be trained professionally in Makeup and showcase their creations. So, on the 17 April in Tokyo, Japan, the Majolica Majorca Evangelist Training began.
Here's the video of Huirong's training!
Can you spot Huirong among the beautiful models? All the makeup products used on the Models are from Chapter 34. Don't they all look candilicious? Here are more photos from the Evangelist Event in Hong Kong. Doesn't the layout reminds you of Harry Potter's Hogwarts School?
There's the Headmaster with Huirong, the Evangelist representing Singapore.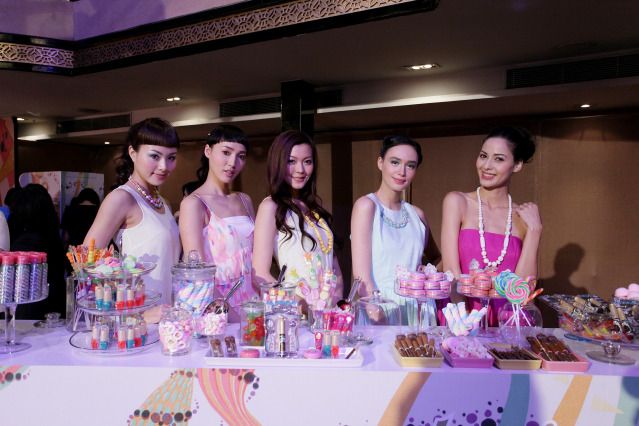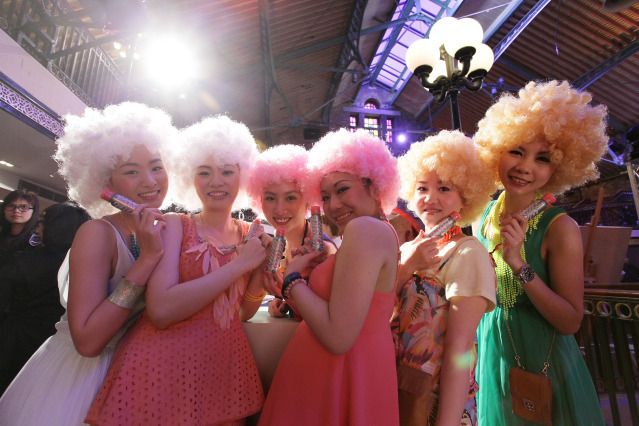 Look at all those lovely Chapter 34 products laid out on the table.
Psychedelicious chapter 34 plays around with colours by coloring brows and lashes to match your hair. Add colour to the eye corners for a 3D double shadow effect for beautiful eyes. Blend colours smoothly and be beautifully transformed. Refreshing lips are created by applying a touch vivid color. Hues of boring monotone are concealed. In a kaleidoscope of colours, get swirly whirly with nail colors in fancy neon. Stay fresh this summer with sparkling body powder that keeps skin silky smooth.
Here are the awesome products from Chapter 34!
Lash King ($25.90)
Achieve king-sized lashes with super long, mega thick, maximum volume. Brown colour gives a softer impression and sophisticated look. It is waterproof resists against sweat, sebum and tears. Achieve full volume finish with just one stroke and keep your lashes curled for hours!
Brow & Lash Colorist ($19.90)
Here's your solution to ensuring that your brow and lashes match your hair colour and makeup! This product helps does that by colouring your brows! Better yet, it contains Vitamin E derivative, Macadamia nuts oil and arginine, treatment ingredients that care for your brows and lashes. Here are some tips for you:
For use as an eyebrow liner, begin from the root and motion towards the tips. If you are going to combine this product with a pencil-type or powder-type eyebrow, use this last. You can also double this up as a mascara. Simply move the brush sideways in a zigzag motion. Start by working from the base of the lash, then move upwards to get mascara all the way to the ends. Can be used alone or layered over mascara. To remove, it is recommended that you use an oil-based eye makeup remover to remove. To do so, thoroughly work the remover into your lashes and wipe off gently. Remember not to rub or tug at your eyes!
Puff De Cheek ($22.90)
You'd definitely love patting with this puff! A lightly tinted colored pop blush makes it easy to achieve round, soft cheeks. It gives a bright finish that lasts long without any dullness over time! This amazing blusher comes in raspberry macaroon and cherry macaroon, colours perfect for the summer!
Artistic Nails ($7.10)
This quick-dry nail enamel paints a vivid pop, candy color. With just a single stroke, this quick-dry nail enamel achieves a glistening gloss and a beautiful neon, perfecting for brightening up your day!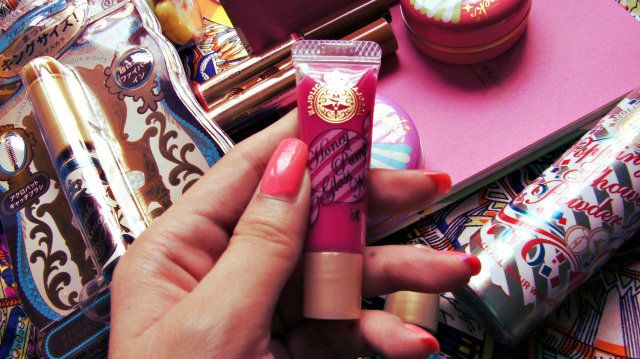 Honey Pump Gloss Neo (Limited Edition, $12.90)
Swipe on some of this rich lip gloss in melting honey gloss candy color for voluminous lips!
Popping Shower Powder (Limited Edition, $25.90)
PSP is definitely my favorite item of this chapter ! Body powder instantly makes skin silky smooth upon application and it contains shiny fine pearls gives sparkles to the skin. The love for this product begins all because of the sweet romantic fragrance of Majoromantica F! Beat the summer heat! Get fresh sparkling body with popping sweet aroma!
Look of Psychedelicious chapter 34
Majolica Majorca will make all desires come true this summer. All products are available exclusively at Watsons on 14 June!
Excited for the Chapter 34 products? Here's small giveaway by MJ for you! Just click the
link
here to answer some simple questions. Remember to like the Majolica Majorca Singapore Facebook page to double your chances of winning that exclusive press kit! Note that the giveaway link expires at 12am on 30th Jun. Winners will be announced through Majolica Majorca Singapore FB.
Click here to like Majolica Majorca Singapore's Facebook page now!