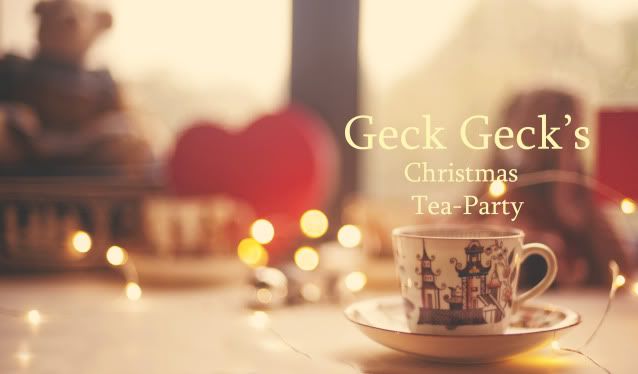 Welcome to Geck Geck's Christmas Tea Party, featuring 12 different lovely online shops and brought you to my whimiscal house filled with visual treats, accompanied by enchanting doll-mates. Adding on with vintage and arts entities from Old England for the whole theme. Remember to have some while they are still sizzling hot. Enjoy.
Lustmonday
Absolutely love the colour of this stunning piece, well, purple was the favorite color of Egypt's Cleopatra. Enchanting dress for the mood of romance and I am ready for a picnic even if it's a rainy day.
This inspired piece, Peter Pan collar dress is simply versatile, as it is suitable for both work and play.
Unique crafted details with silver pins and stringed with beads, gives me the idealogy of avant -garde fashion, hence leads to notion of experimental art. I love it and the outfit does not need much of styling, keeping it as simple as possible so as to not take that attention away. What do you think?
(white dress from Vylabels)
Fashion Muse has just launched a new Christmas collection and there are so many chic pieces that I am falling in love with. Do remember to quote my name as all my readers are entitled to 10% discount! This is what I called awesomeness, isn't it?
This manufactured piece - a sleeveless dress with sequin collar comes in Black, Burgundy and Navy is perfectly suitable for this festive. A season of glitz and shimmer, this dress is definitely the best piece for you.
This sleek elegant low back dress is a a brillant and enchanting piece to match with my idealistic inspired Egyptian gold metal choker. Its subtle drape takes away my flaw and accentuates my figure really well.