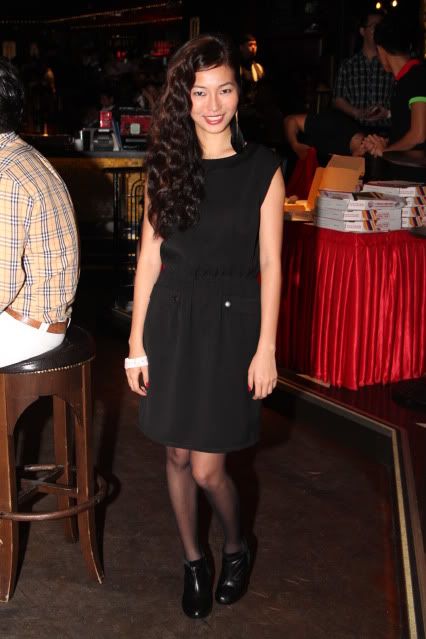 (hair done Allan from Salon Vim, Vintage dress, black stocking, earring from from Paris Forever 21, velvet low cut boot)
My lovely friends, Marcus Sie, Wilson Chua, kk, my sister and her boyfriend, Alvin all came down to Shanghai Dolly last week to give me their support at the Singapore Blog Awards. Though I was not the winner, I was happy to catch up with some old friends there and I think it is an honour to be nominated as the top 10 finalist for Best Fashion Blogger and Best shopping Blogger. We were supposed to dress up as a history character, guess what was I? As I was very much inspired by my grandma fashion times/era during the 50s, such Jumbo triple waver Barrel was way popular back then. Hence, hair was the highlight for the whole appearance. Allan was very patient dealing with my hair and I was overjoyed with the result after that! Last but not least, I style myself with a black vintage dress pairing with a velvet low cut boot and a black feather earring with some tinge of gold to finish the whole look.
On a side note, it has been a crazy week since I came back from Europe. A wake up call too soon..