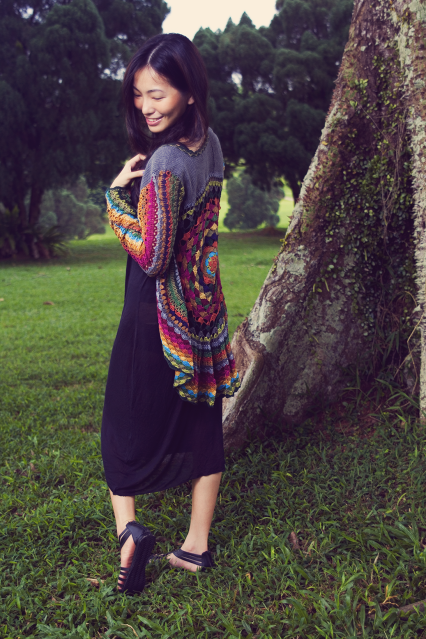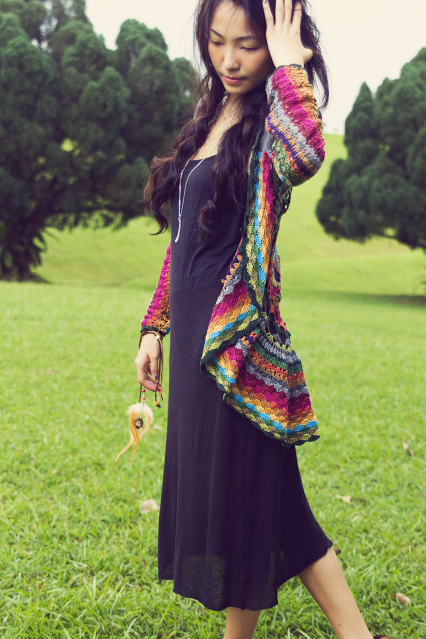 (knitted wear from forever 21, shoes from BKK, headband from Japan, black inner wear, wishing bone necklace from Marc Jacobs)

70s knitted wears are coming back in trend again! I still vividly remember my auntie used to own a whole chunk of knitted wears, high waisted mini skirt, bell bottoms etc in our shared wardrobe because I just love ransacking her clothes and to try it on. I know. So vain I am. Soon after that, she got married, moved out of the house and the clothes went outdated after that. No one cares about those clothes that were left at the corner, eventually sold to the rag and bone man who loved it. Yet, these used to be unwanted clothes comes back with high in demand again! I called it the fashion cycle.
Anyway, I was figuring out the differences between the 70s hippie and bohemian style. Hippie style tends to favored relaxed, comfortable and natural clothing styles although there were some very unique and imaginative things done with leather and beading, the norm for most common seen with teenagers was bluejeans and a tee shirt (tie-dyed or not). And guess what the boho look, which owed much to the hippie styles that developed in the middle to late 1960s. Similarly, Boho also played very much on beading and embroidery, usually features included "floaty" skirts (notably long white ones), furry gilets, embroidered tunics, cropped jackets, large faux-coin belts, sheepskin boots and cowboy boots, baggy cardigans and "hobo bags". Hence, if you are dressed like a boho but commented that you look hippie or vice versa, both of you are totally so not wrong! However, there are still distinctive differences between the hippie and bohemian style you may want to take note, I will mention it more in my next post. Perhaps. Stay tuned!