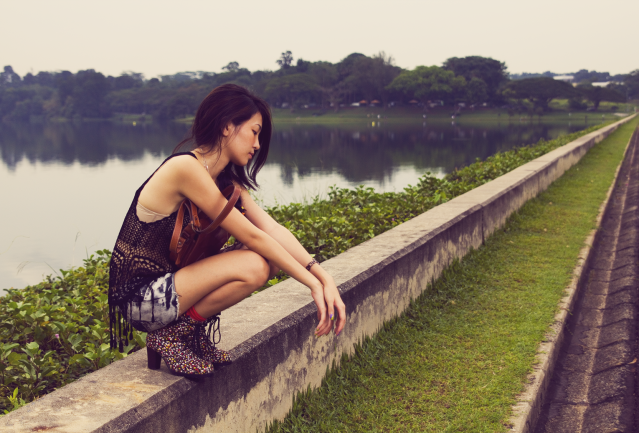 (Flowers boot from Japan Woman 109, knitted wear from Japan Vintage Market, Accessories from Japan Street Market, Vintage bag from my Aunty, Sock from GeckGeck Vintage, necklace from Marc Jacobs, watch from Fossils)
Most people can agree that the hippie style is usually grounded in respect for the natural world, communal living and artistic experimentation particularly in music with earthy style that is comfortable, funky and unique, usually can mix and match and has no fit definition. These trend setters usually come from the artists themselves during the 60s... On the other hand, Bohemian is like very much influenced by their lifestyle, anyone can dress freely according to their freewill, one good example is people living in the tribal areas. Most of their attire are usually found man-made like leather wear, handmade embroidery wear and bead works. As mentioned earlier, hippie and boho share similar sense of style usually associated with beadworks, leather and embroidery, therefore the differences between both trends are often confused. I was super thrilled with the history background during the 1960s with regards to the similar style yet different background at that period of time. People are also usually influenced and aspired by a certain style due to a famous painting or prominent icon or even music itself. Hippie movement origins can be traced back to classical culture, and to European social movements in the early 20th century. It was said by 1968, hippie-influenced fashions were beginning to take off in the mainstream, especially for youths and younger adults, many of whom may have aspired to emulate the hardcore movements now living in tribalistic communes, but had no overt connections to them. Fashion, due to its cyclical nature.. boho-chic trend is back and really a fun and comfortable wear to be out with friends during this summer season!
Anyway, I am at POLAND with my beloved Xinni and my JC junior Florence! Will continue to update more on my blog still, please stay tuned!