Recently, I just highlighted my hair. oh dear my memory is failing me. I can't remember what exact hair colour I had chosen. oh well.
Anyway the highlight is not very obvious, at least my hair doesn't look somewhat dull anymore? I just want a change for something new cause it has been a shitty month for me. I wanted to cut my hair really short, like a boy.
ME: I want to cut it really short like a boy
ALLAN: huh.
ME: Yes, I think I want.
ALLAN: no la, better not. wait for a few months later
Allan really likes my long hair and he feels it's really a pity if I just chop it away just like that.
Not forgetting to mention Allan for the wonderful services! ha he seldom smiles to the camera, next time I make sure I will keep taking his photo till I capture that smile of his.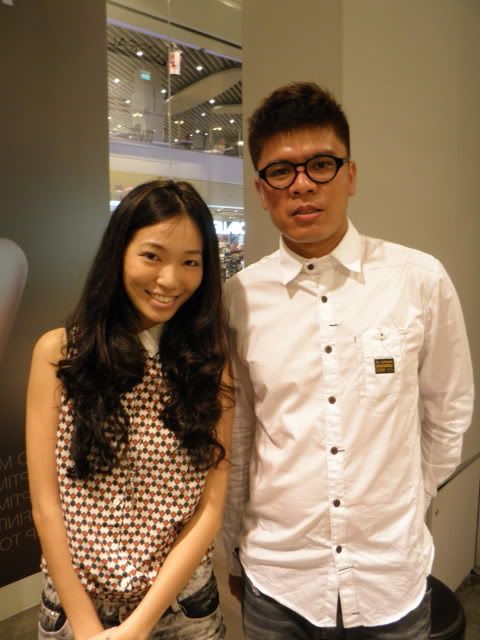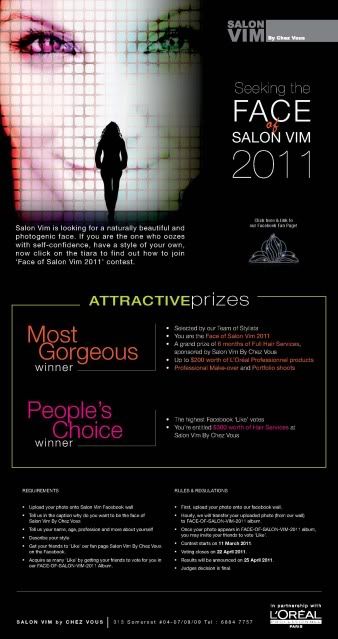 Salon Vim is looking for a naturally beautiful and photogenic face. If you are the one who oozes
with self-confidence, have a style of your own, now click on the poster to join
'Face of Salon Vim 2011' contest and win great prizes. :D
I did a shoot with Jon Arnold from London who came to Singapore to shoot my picture with the Singapore backdrop/ places of interest. Pictures are pretty small resolution. Will be back with better picture with higher resolution alright? Here are some of the photos to share:
Compensating me MISSING IN ACTION with a few interesting works done by ADM students.
Pardon me for the lousy picture, I just won a new camera and trying to play with it. Apparently, it doesn't takes very clear pictures. oh well. I can't wait to get my 5dmark2.