How insane can zouk out be? Did you hear about the ticket scam? One of my friends bought his ticket from this particular person from an online forum. The ticket look so damn real and when he reached the zouk out entrance, he was told that the ticket was all fake. hmm.. nv know zouk out was so hot in demand...
Yes indeed, Zoukout was really crowded... and many people was disappointed when they couldn't get a ticket in.
Here are some of the pictures to share :


Every year, Zoukout has some art installation at the party. This time it was some colourful jellyfish/snakes installation and I never missed this out.
oh, he is my cousin who used to give me 'JIANG' when we were trying to play a game of chinese chess back in our younger days. We are childhood cousin ! HAHA!
Citi Clear Platinum Card gives you,
5X Rewards at your favourite hangout like Zouk, Butter Factory, Wala Wala Café Bar, Helipad, Timbre, Brewerkz, St James Power Station and more. And get invites to Clear Platinum events, parties, sale previews and more. More information about the Citi Clear Platinum Card @
http://pea.to/CCP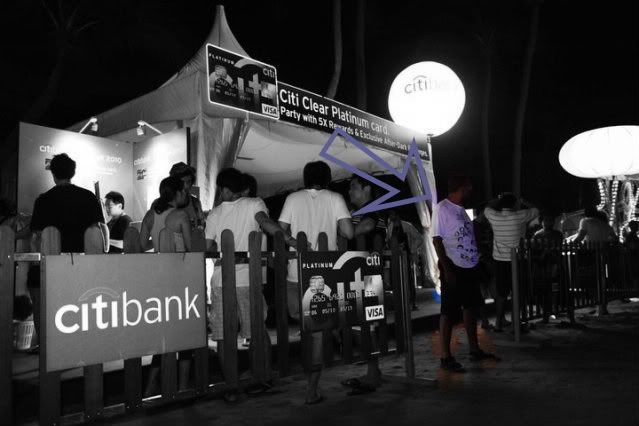 One more thing! I am not against citibank or anyone, I am just very upset with this bouncer in the pic above who is a 2-faced .. I don't usually kaobei alot..But oh well, I am sorry, this bouncer really pissed me off and it tells us how practical some people is..
This bouncer was DAMN polite to me when I was invited under the media list when I went in with my organiser together. (because he can recognise my organiser)
Then at 2am, it started raining, I was with Sheila and I thought I could take a shelter inside with my friend since I was invited as a VIP guest.. GUESS WHAT?
And this time I wasn't with my organiser, he did not allow me in even though I had the tag..
He was fucking RUDE!
I was wondering how can he be so nice and polite at first and the next moment he became so fucking rude! He said I can't go in
not because
the shelter was packed with people , he said your time was over.
I WAS LIKE WTH AND I STILL SAW SOME OF MY BLOGGER FRIENDS INSIDE the citibank tent chilling away.
HE WAS TRYING TO PUT ON A RAINCOAT WHILE I WAS UNDER THE RAIN TRYING TO ASK HIM TO LET ME IN TO GET A SHELTER INSIDE!
I felt damn offended with his attitude . IT WAS BLOODY RAINING. Sheila and I just want to get some tiny space to get some shelter. Not saying I am a very big shot or anything, but how much space can we take ?
FORGOODNESSSAKE!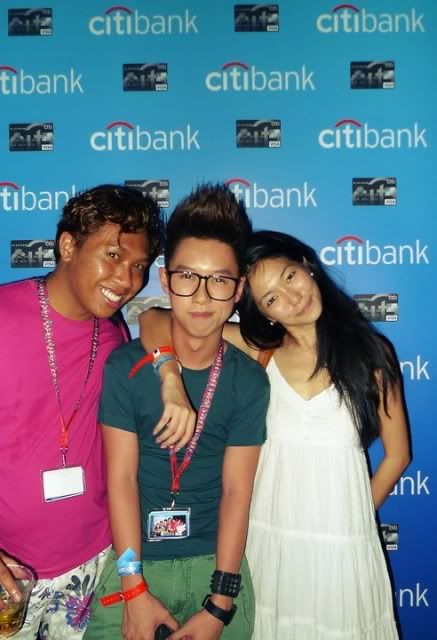 2 other bloggers,Mus and Jay.
Nicole is damn light! I could just lift her up easily without much effort.
Hi NICOLE!
Thank you citibank & 24 seven for the tic nevertheless :D