Lots of vintage stock photos from all over the sites that I have collected for my arts research this year. Hence I am putting up some of the visuals here to share, while not forgetting to update you with my half -a- day outing with a really terrific friend, Joshua who is super talented with stop-motion to share his insights with me @ a very interesting restaurant below. Nah I didn't take any photo of him, but yes he is really a selfless person who shares many good tips all-about stop motion with me!
Then I have some time alone at town! I love to spend time for myself. I seriously don't mind being alone you know. Maybe you think I am weird. HAHA. well, I don't really care. :D
sooo this is the semi -vintage restaurant I want to talk about.

vintage photo/frames in Mint restaurant !
More toys displayed above
And next vintage clothing...
Believe it anot, Vintage dresses are now hitting hot in town. Visited bugis street lately and I saw
a few new shops selling vintage clothing like hot cakes and the price of each piece is OMG.
I am into all the vintage entities. I am A MAD VINTAGE LOVER. But granny thinks that I am a kara guni woman, anything also doesn't bear to throw it away. Sighs, she loves to mess up my stuffs, she threw away all the beads that I collected for years and they worth at least 300 bucks!!! PLEASE , I KEPT IT ALL IN A BOX NICELY, yet she could still go all the way to my locker to throw away my stuffs. AND FUCK IT -when I told my uncle that, he just put all the blame on me and said that I ANYHOW KEPT MY STUFF AND I CHOSE NOT TO LOCK IT .
hello I didnt anyhow and just happen the lock spoilt when she did that. I cried for days okay.
ok I shall stop diverting.
While walking down alone at town, I saw my secondary school junior!
check out my latest vintage dress! I collected a few in my wardrobe. woohoo! and more to share ... ;)
DO support stall 56, pirate seafood stall. MY DAD IS THE PIRATE! My dad said : ' why did you dress like so ah ma today? '
ha.
I laughed. I told him I really love my dress. (:

Anyway
Share with you my fav!
seahum!

Clam :D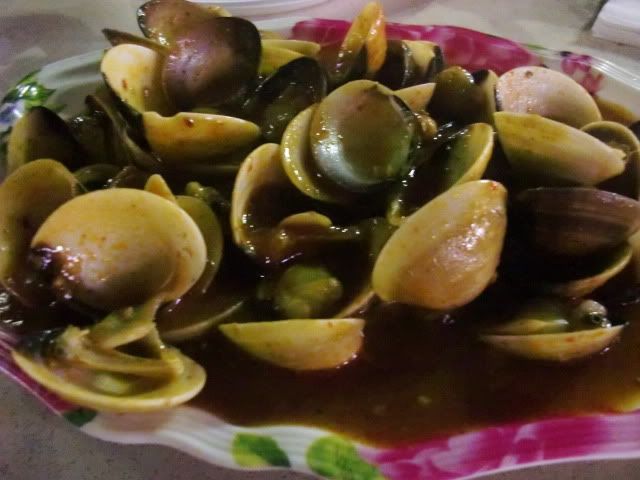 sharing is love too. I have supper with Sheila @ Newton. I totally appreciate people who can share the truely awesome taste of seahum and lala !

share with you my vintage accessories soon in my next few coming entries...!
Last but not least, a belated Merry Christmas & happy new year to everyone! :D
xoxo
AGG