I had a photoshoot last fri with HH. Sheila standing on the right is HH's owner and Nicole on the left is HH's Model)

We had fun posing after the shoot. Then we decided to head for some fun after that. We had a wonderful dinner at dinner at The Disgruntled Chef .
Don't you find me old in this photo?
The hot chocolate drink is damn good!
yeap I am weird fancy having hot chocolate drink for dinner. whatever .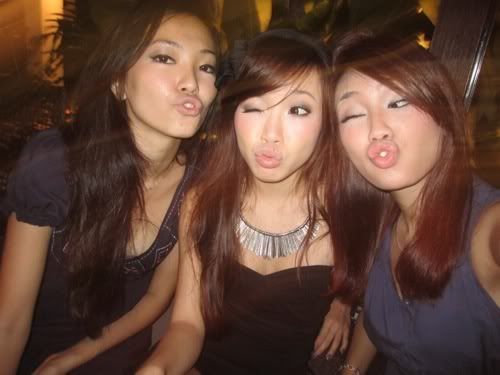 We did Sheila 's trademark sexy pose.
yayaya i look like a goldfish hur?
We went to Filter after that. Drinks were on free flow for us, thanks to nicole for the invite. I always had a good control over my drinks and I wanted to take care of the girls, but I think I haven't club/drink for the longest time which explained that I couldn't hold my liquor as well as before when I was fed with more and more drinks each time..
Just got myself into very bad shape and I felt super embarrassed after that. REALLY. I just felt extremely unwell after mixtures of drinks and felt damn bloated, probably I ate too much cheese and milk for dinner.
YA, I puked like a MER-AGG (merlion). ._____.
Of course, I did try to be considerate and find a good spot to puke but trust me I was sober enough to know what was happening, not that kind of dead drunkard and get wasted! NOOOOO!
Anyway, I never like that feeling ...
Thank you girls for the wonderful night.
credit photos to Sheila.



P.s I am not that kind who doesn't takes pride in my work, in fact, I do and I know I can do better than the rest if I want to do it well.
I AM A PERFECTIONIST TOO!